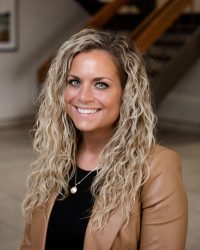 Jenna Arellano
Sr. Loan Officer
NMLS #631268
Licensed in Indiana
Jenna is a Senior Loan officer who has been in the financial industry since 2004 when she started her career in retail banking. Over the next 17 years Jenna had several roles ranging from managing, investment planning, lending and even title insurance. With her vast experience and wide range of knowledge, she checks off every box of what makes an excellent loan officer.
For Jenna, it is not just another home loan, but the extreme privilege of guiding her clients to first time homeownership or taking their current home and goals to the next level by bridging the gap from where they are to where they want to be. Her contribution is not only based on passion and energy, it is also based on her experience in empowering people with the right tools and creating custom strategies that will help achieve their goals. She brings an unmatched commitment to her clients' outcomes and truly enjoys celebrating their success.
When Jenna is not working with clients, she enjoys spending time with her family and 2 children or lounging with her furry kids. She loves to travel to new places and soak in the cultures. Jenna loves to take part in anything creative. As a self-proclaimed terrible artist, you can usually find her drawing, painting or staining anything within reach.
get started